Images and strong visual storytelling have always been important to me. And, as my writing has progressed over the years, I've naturally begun to add photography to my non-fiction writing, particularly the travel writing. I feel that strong images of people and artifacts are immensely valuable in capturing a sense of place.
This section will most likely be in a perpetual state of development. But for now, here are a few images and galleries for you to explore.
Scroll through the galleries, or use the handy links listed below.
(All images are the property of Glenn Kaufmann and cannot be used for any purpose without his prior written permission)
People | Places | Things | Creatures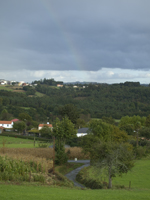 Click here for a gallery of images from my trip to Galician Spain.
People

Zorbing (Not me)
Gatlinburg, TN

Fly Fishing,
The Smokies

Dollywood
Gatlinburg, TN
Places

Ait-Ben-Haddou, Morocco

Gatlinburg, TN

Great Smoky Mountain NP, Tennessee
Things

Ladera Resort,
St. Lucia

Farmers Market
Bloomington, IN
Creatures

Ripley's Aquarium
Gatlinburg, TN

Indianapolis Zoo
Indiana